Warren Buffett's oil affair
INTL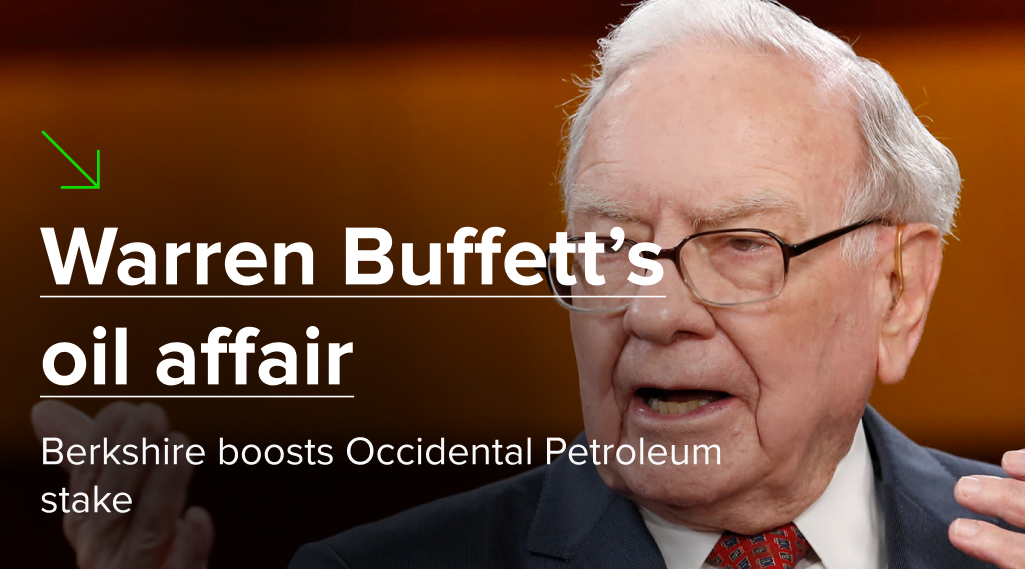 Buffet and Berkshire Hathaway are seeming to bet big that the oil boom isn't about to subside any time soon. It comes as Berkshire Hathaway disclosed in a regulatory filing late Wednesday that it spent a cool $529 million to buy nearly 9.6 million shares of Occidental Petroleum (OXY, $56.09) in the past week.
Berkshire Hathaway made the purchases between June 17 and June 22. Buffett's conglomerate now owns a 16.3% stake in Occidental Petroleum, making it by far the largest owner of the stock. Mutual fund giant Vanguard is the second biggest investor, with a nearly 11% position in the company. Occidental Petroleum is the best performer in the S&P 500 this year, rising 92% as crude prices have soared. Shares were up more than 3% in early trading Thursday.
Occidental is one of the largest oil producers in the US, with operations in the Permian and DJ basins and offshore the Gulf of Mexico. The company also has assets in the Middle East and North Africa. For the first quarter of this year, Occidental reported a net income of $4.7bn to common stockholders. In the same period last year, the company registered a net loss of $346m.
why it matters
The Oracle of Omaha and Berkshire clearly have a taste for energy and oil companies. Chevron, the Dow's top stock of 2022, is also a favourite of Buffett and his investing team; Berkshire announced in its annual shareholder meeting that Chevron (CVX, $142.44) is a core part of their portfolio, making up 8.1%. The oil and energy business is evidently an essential part of its long-term strategy. The company's energy subsidiary owns leading electric utilities, including PacifiCorp and MidAmerican, oil and natural gas pipelines and several renewable power companies.